The sensitivity and
the experience
of the cartonnier,
the pallet of colors
he has and finally the mode and the quality of their reproduction on the support form a whole which guaranteed right from the start the work of the embroiderer.
This is why it is very quickly appeared to the stitcher demanding the importance of the colorist but more finely still the interest of a real painting of artist as a starting framework of the needlepoint tapestry.
Two works are found in only one. One hidden but fertilizing, the other revealed by the used technique and sublimated by the smoothness, the brilliance and the relief of the matter.
TO REVEAL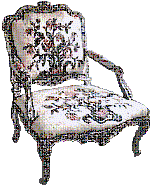 Painted drawing by Annie Bouquet according to a XVIIIth Century motive on an armchair called
"à la reine".


Door Belts "Boudin" conceived and realized by Annie Bouquet for England "Needleshops".
This hand painting
"to the brush" is not only the most authentic expression of the cartonnier,
not only a unique work, as well he would even produced it several times as make painters on earthenware, but it especially offers to the stitcher the satisfaction to represent this painting with its needle and colored thread and adapt its work to the constraints of its own technique.
The Art work of "cartonnière" is an unfinished work. The Art work of
ANNIE BOUQUET
is a window opened to you all who will be able to reveal what there is hardly evoked and showed in this hand painted canvas the first step toward Tapestry.