SILK-SCREEN
These three techniques use indiscriminately the "Hand Painted" appellation. An alone can truly to claim it. The two others are automatic or semiautomatic systems of reproduction using the hand without that this last be the one which decide where the canvas will be filled by colors.
Drawings printed with silk-screen or to the stencil are marked by the contemporary tapestries conceived with "flat" and representative of a style.
One can take example on these wonderful tapestries "moderns" woven in the great centers as Aubusson. Tapestries signed
LURCAT
will give you a good idea this current.
HAND PAINTED WITH THE BRUSH
For some stitcher one distances the " needle painting" because one loses there these subtle nuances and these imperceptible shades, and that more especially as the development cost of these serigraphies forces to limit still more than ever the number of colors. The most serious is that editors proposing these silk-screen ask rarely that the artist be present during printing them.
In fact most of the time the cartonnier comes from another branch of industry like those of the woven tapestry or of the illustration. More generally still he names himself free lance designer.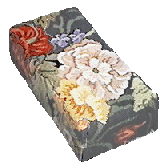 "Door stop" conceived and realized by Annie Bouquet

for English needleshops
STENCIL KEY SET
These Artiste come from branches of industry quite distant of printer and their more or less toxic odors. Also, to the condition that the publisher be dyer of thread or manage it himself, to the condition that the Artiste had conceived its cardboard with these dyes, and finally, that the screener uses also these same colors, reproduction designed will be quite distant from what the artist will have provided or what he will have anticipated.
The result, one can be sure for it, will make the desolation of these numerous stitcher who using the available thread color range on the market, will find very approximately a correspondence between these shades and the printed colors on their canvas.