It is all the ART of the "lissier" (hand weaver) or the stitcher (embroiderer) and all the potentialities of their technique that are summoned. Since centuries, generations and generations have succeeded there. Still it is necessary that the base of work of the embroiderer or the lissier suggests a direction to them. If at the beginning they have only colors dully applied how to recreate a movement, how to recreate a nuance ?
They could, as done the lissiers of the Middle Ages and again these of today, thanks to "Cardboard" (Carton) painted that is found behind their work.
Serigraphy or Stencil key set techniques of reproduction do not allow to reproduce these fine details which nature proposes to us.
THE GRADATION & THE NUANCE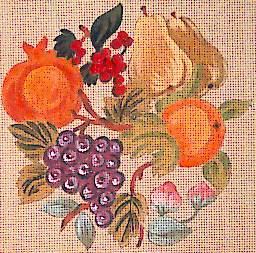 Only, therefore, the brush allows to visualize this fineness of the gradation and only the lissier and the stitcher can interpret this gradation according to their own techniques. The cartonier suggest a style and the "canvas " (with the literal meaning and illustrated of this last term) and, the stitcher starting thus from this sure basis, brings its talent to this possibility of the painting to become a real TAPESTRY.
These printing techniques with stencil key set or by silk screen are nevertheless adapted perfectly to particular styles. It is not questions to deny here the clean beauties and quite admirable styles of these printed canvas. One finds some evidences throughout the history of the needle-worked or woven one tapestry. These "flat" illuminate by prestigious way the coat of arms, they bring in others examples a naive touch,. The orient, it, has perfectly and marvelously used these " flat " in the drawing of its rug. Finally as evoked in the preceding chapter, the modern period has magnified it in its movement of revival. This "style" would be alone as well the matter of an other chapter.