VARIETY OF THE BEAUTY
Within this house Annie Bouquet acquired real and original techniques to the "cartonnière" work and extend her knowledge of all styles from the Middle Ages up today.

She had the privilege to study on a basis of more of two thousands classic and Art Deco style of seat, cushions, fire-screen or "cantonnières".
EMBROIDERER AND CARTONNIER
It is interesting enough to note that concerning embroidery and stitched tapestry to the Petit Point one forgets easily this work of "cartonnier" nevertheless impossible to bypass.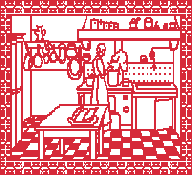 At the end of the XIXth century and to the start of the XXth it was the fashion to reproduce in counted or cross stitch elements of the interior room or facades of the houses. This mode was come back at new in the early 1980's
PERSONAL CREATIVITY
That is certainly the fact that the embroidery and the stitched tapestry or needlepoint use the personal creativity of each of us that we forget this designer:

All we can take a needle and a canvas and embellish our interior with one works that we will have carried out ourselves.