Tapisserie de France 7, rue des Moulins 75001 Paris France
Napoléon III
Tapestry by de Winterhalter
Compiègne museum
Carpet (1845-1850) stitched to the Petit Point. Its ornamentation is characteristic of the end of the Louis Philippe reigne and the beginning of that of Napoléon IIIth.
Fashion advertising published in "l'illustration"
around1865's
Napoléon III (Charles Louis Napoléon Bonaparte): Third son of Louis Bonaparte, brother of Napoléon 1st. Born to Paris in 1808, death to Vhislehurst, Kent, England.
FURNITURES & SEATS OF NAPOLEON IIIth STYLE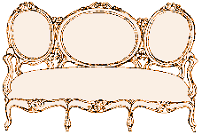 Ever in all preceding centuries one invented and manufactures so much seats. Second half of 19em century was to this title the period of the seat by excellence. Also to each forms of back will be adapted a sofa, sometimes a "chauffeuse", a deckchair or a "duchess". Confidants and the indiscreet are creations of the second Empire. We feels in the profusion of the Tapestry an English influence (the victorian century).Design of flowers in round bouquet, to basket, in garland are the main decorative elements on the tapestries. Nevertheless colonies bring their part in oriental motives (asian especially). preceding style copies are growing and experts of today can again be confused.
NEEDLEPOINT DESIGNS FOR NAPOLEON IIIth SEAT COVER

0402 Nap III.

0484c NapIII.
0402 Napoléon IIIth. Beautifull seat for armchair of Napoléon III style that presents a bouquet. This drawing carry in it a rotary movement obtained by the abscence of stem. Flowers are thus entailed in a circular movement. you can look the drawing of does not import what angle.
0484 Napoléon IIIth. Very pretty constituted rose composition, blue flowers. The foliage is imposing and it filled with flowers practically all spaces it.

0519 Nap III.

0551 NapIII.
0519 Napoléon IIIth. Drawing in form of paving and medieval inspiration. Colors opposed red and blue balance in rhombi and rosette. Each of forms is set in a gold fillet. A bottom off-white allows colors to express fully .
0551 Napoléon IIIth. Very rich scenery of gold foliage forming a medallion. This gold heighten the white rose bouquet and the tender green foliage. In high of the composition falls the same acanthus of gold. We advise to do the backround with a green which we dye at Aubusson.

0629 Nap III.

0516 NapIII.
0629 Napoléon IIIth. The "Napoléon III" style has resumed a lot decorative elements of preceding styles. Thus on this chair the ornament of the periphery has been inspired from the Louis XV circlet. A lot of seats were, as here, realized on a somber background.
0516 Napoléon IIIth. Symmetrical constituted foliage composition and crimson flowers. The volutes that form stems and leaves gush from a ornament center of foliate out spray acanthes.
¹ Needlepoint Tapestry kits contain the hand painted canvas in full colour from Annie Bouquet 's Studio (NB: any color combination may be ordered, according to decoration.), yarns, two plated Gold needles, and instructions. The 100% cotton canvas is a double weave antique or white Monofil. The yarn is 100% pure wool "Medicis" from DMC France and some others dyed specificaly for us to Aubusson.